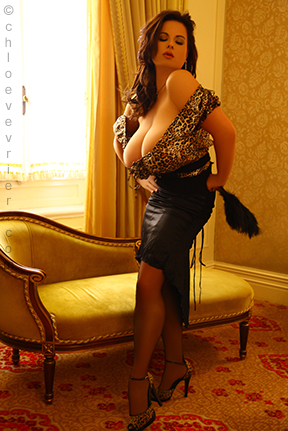 The Collection
Chloe Vevrier says Hi to all her friends and Fans all around the World!
This is Chloe Vevrier, warmly welcoming you here to my official website, chloevevrier.com, which I, Chloe Vevrier, created and operate myself to present you the very sexiest of me! If real big boobs are what you enjoy looking at, Chloe Vevrier is the girl for you! My all natural 32 K breasts that will blow your mind!
Welcome to a truly sensual experience with Chloe Vevrier! Thousands of exclusive luscious Images that will drive your fantasy wild! Sexy, voluptuous and Hot! Want to see Chloe Vevrier in moving action? Watch my sexy feature videos! Or take a look into the exclusive Chloe Vevrier Video Archive!
Still want more of Chloe Vevrier? Follow me in my personal diary entries or read my Essays and erotical stories, where I share my intimate thoughts and fantasies with you!
I have more than big boobs, I have a huge Libido and a very sexual mind. Come and join me, Chloe Vevrier, for an ultimate Big Boobs Pleasure Fest.
Lust is life!
Enjoy!